Putin's free tiger was photographed in Heilongjiang. The official photo - the infrared camera of the hunting Department
cite from:news.ifeng.com/a/20141115/42478593_0.shtml
News time: November 15, 2014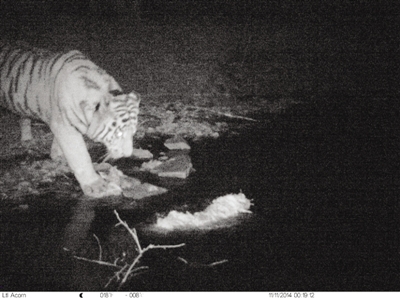 Map Khojah far infrared camera to photograph the image.
Original title: Luobei Taipinggou appeared tiger is "tiger Putin" Khojah
The Provincial Forestry Department confirmed 14 days, 9 days to take Luobei County Taiping District ditch National Natural Protection of the Siberian tiger and nearly two days of video captured by Tiger pictures, the National Forestry Research Center feline animal experts confirmed by the Russian immigration tiger khojah.
According to the analysis of GPS positioning information tracking data, 10 days in Luobei County of Hegang City, Taiping Khojah ditch National Nature Reserve and gold mandun Taipinggou forest, from the Sino Russian border river in Heilongjiang hundreds of meters. According to expert analysis, the tiger has been walking along Heilongjiang every day, and may be trying to cross Heilongjiang. At present, Heilongjiang large ice accumulation in the river, is expected to take about 10 days to completely seal the river, in recent days the Khojah feasibility of "small home".
In May this year, Russian President Putin reintroduction of 3 Amur tigers, caused great attention from all over the world.
In October 2nd, according to the satellite positioning, the Northeast Tiger Baja visited Heilongjiang (the estuarine section of Jiayin County of Yichun city) into our country. The Provincial Forestry Department issued a telephone announcement on 10, and sent an urgent notice on the 11 th, requiring all forestry bureaus and the protected area to pay close attention to ensure that the tiger is not injured by human factors and avoid personal injury. At the same time, in the two counties of Jiayin and Luobei, they sent wild animal protection personnel and forest police officers to patrol, publicize and set up infrared cameras.
Record Time:2016-01-08 00:00:00 【Printing】 【Close】